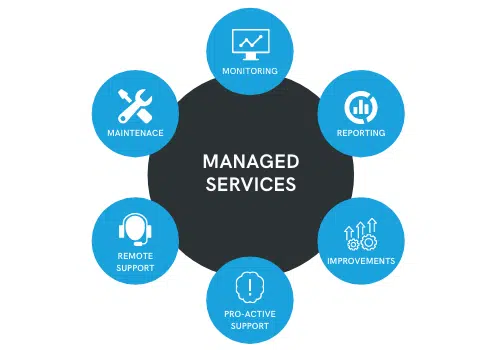 Managed Services
Ensure that your IT operations run optimally & predictably while keeping your critical data safe and secure.
Managed IT Services provides the best value for your IT dollars, by providing a complete solution for your IT needs at a fixed monthly rate.
Use Managed IT Services
With an increasingly complex IT environment, setting up and maintaining the IT infrastructure on-site is often a challenge for small and medium-sized companies. There is a lack of personnel and know-how and therefore outsourcing or supplementing the in-house IT department is certainly a cost advantage.
You want to become more efficient? Using our Managed IT Services you benefit from an all-inclusive package including monitoring and reporting, our pro-active personal and remote support and continuous maintenance of your IT infrastructure.
All delivered services will be individually agreed on and are based on Service Level Agreements.
What We Offer

24×7 Monitoring & Support

End user telephone support is provided via toll-free number and available 8:30am to 5:30pm from Monday to Friday. After hours support is also available 24×7, 365 days per year by contacting our support line.
After hours support requests are live answered by a call attendant to validate the request, then assigned to a support specialist that is familiar with the IT environment. Issue resolution is automatically initiated by our 24×7 Network Operations Centre.

Help Desk Platform

Enterprise level technology platforms are used to manage every aspect of our clients IT infrastructure. The platforms provide a highly integrated ticketing system that enables our team to easily and effectively track all service requests and their associated devices. Service tickets can be created automatically by our monitoring software, manually by our service team or by clients via email, or through an available client portal.

Centralized Management Tools

We utilize enterprise class centralized management tools for remote 24×7 monitoring, audited remote support, centralized auditing, patch management and asset reporting. The IT management platform provides our team with proactive user defined monitoring with instant notification preventing problems before they lead to outages.

All-Inclusive IT Services

We cover all aspects of your IT needs. From security, data protection, applications, to even regular hardware checkups to prevent IT failures. Even if a failure occurs (as is sometimes the case with unpredictable IT infrastructures), we deal with issues with top priority and speed.
Unable to work? Your computer freezes?
We'll help you get back to work. Fast and Efficiently.