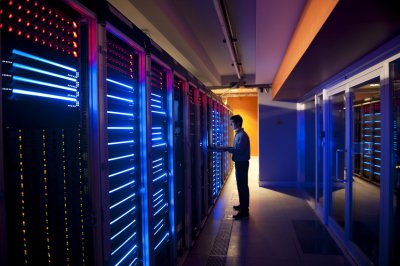 Network Design and Support
Networks are very useful in this computer age. They can help you save money, time and energy. When networks are utilized correctly, they can be one of the biggest productivity enhancers. However, if a network is not set up properly, then it can cause hassles, frustration, and lost productivity. That's why, when setting up networks, our expert IT Consultants at LIT Computer Solutions focus on the network services YOU need and ensure that it works smoothly and flawlessly.
We can help you with the following network design and installation solutions
Different needs have different solutions. That's why our IT Consultant will sit down with you to discuss your network services needs and goals. We will use our years of experience to help you make the best decision for you or your organization.
We handle your complete IT infrastructure including routers, firewalls, switches, Network Attached Storage (NAS), Direct Attached Storage (DAS), Storage Area Network (SAN) and printers.
We will make sure that your important IT projects are planned, on-time and within budget. We will properly manage the IT project from the start, in order to minimize costs and migration headaches.
What We Offer

We can help you with the following network design and installation solutions

LAN/WAN setup
Computer Network design
Network Design consultancy
Network Backup solutions
Wireless network set up – Wireless Routers, Access Points, Wireless Routers and Network Cards
Server set up
Data cabling including Wireless set up, phone, internet set up – Cat3, Cat5, Cat6, Ethernet
Troubleshoot Network issues
Network Performance Analysis
Unable to work? Your computer freezes?
We'll help you get back to work. Fast and Efficiently.